The new 2017 Honda CR-V: turbo and more stylish
October 27 2016,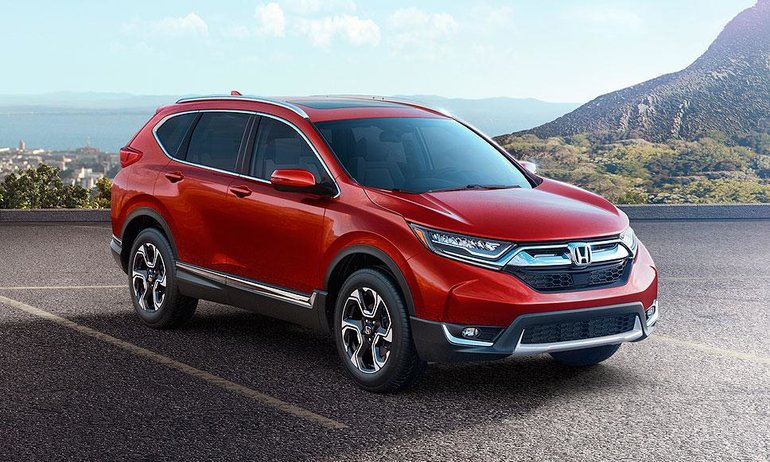 Over the years, Honda's CR-V compact SUV has maintained its popularity, attracting thousands of consumers with its reliability and versatility. For 2017, Honda strived to preserve these qualities while giving the popular vehicle a refreshed, more modern look all the while improving performance and the interior layout. The new 2017 Honda CR-V does all of that very well.
New design for the 2017 Honda CR-V
Starting with design, the new 2017 CR-V's design is more sophisticated than ever. You can easily spot the new Honda design cues that we've also seen on most new vehicles from the Japanese automaker in recent months including the new Honda Civic. These design improvements include a wider grille and an overall more aggressive style.
That said, the CR-V keeps its refined and modern design that has allowed it to stand out in its competitive segment. The interior also receives its share of changes. The infotainment system is where buyers will notice the biggest changes, thanks notably to the addition of physical controls to control the audio system's volume, instead of the touch-based system seen in previous Honda infotainment systems. In terms of connectivity, the 2017 Honda CR-V now adds Apple CarPlay and Android Auto, while overall interior space is improved thanks to a longer wheelbase and a reconfigured layout.
The real change, however found more under the CR-V's redesigned body. These changes include a new platform that is shared with the Honda Civic and upcoming Honda Accord as well that is designed to make the CR-V more rigid and overall a better performer.
The front grill also gets active air vents designed to make an already fuel-efficient compact SUV even better in that regard.
A turbo engine for the 2017 Honda CR-V
There is also a big change under the hood. Indeed, the 2017 CR-V will offer as an option the 1.5-liter, four-cylinder turbo engine that is found in high-end versions of the Honda Civic. It is rated at 190 horsepower and will send its power to all four wheels via a continuously variable automatic transmission. Front-wheel drive and the current 2.4-liter, four-cylinder engine rated at 185 horsepower is standard.
Finally, the 2017 Honda CR-V will be safer than ever, since all versions with the AWD system will also receive the Honda Sensing suite of active safety systems. Features found in Honda Sensing include active lane keep assist, lane change assist, blind spot monitoring, rear cross traffic alert, automatic braking, active cruise control, forward collision warning, and a lot more.
Want to know more about the 2017 Honda CR-V, contact us today at Bruce Honda!