The 2018 Honda Odyssey aims reinvents the minivan
February 27 2017,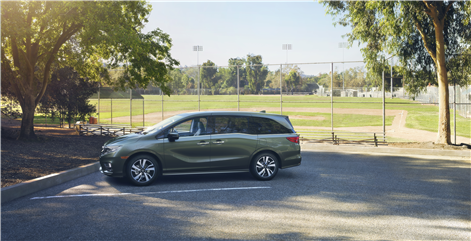 A vehicle that is more spacious, more technologically-advanced, and safer than ever. This is what Honda is offering with the all-new 2018 Odyssey, Honda's latest-generation minivan that aims to cover every family's need.
The Honda Odyssey doesn't need any more introductions. Chosen by thousands of Canadian families for more than two decades, the Odyssey is already recognized as one of the most practical vehicles on the market. And for 2018, that will be even more true.
With its more rugged, almost SUV-like design, the new Honda Odyssey is not your typical boring minivan, from the front to the rear. And with a 3.5-liter V6 engine developing 280 horsepower, drivers won't be bored behind the wheel either.
The 2018 Honda Odyssey is more practical than ever
Introduced early this year at the North American International Auto Show in Detroit, the new 2018 Honda Odyssey promises a real revolution in the world of minivans.
Honda understands that traveling with children can sometimes be difficult. And that's where the 2018 Honda Odyssey truly shines. The new Odyssey offers a host of new features and technologies that have only one objective, and that is to make traveling as a family an easier and much more enjoyable event.
While adults can enjoy an infotainment system displayed on an eight-inch touchscreen, passengers in the rear of the new 2018 Honda Odyssey will have a blast with a new entertainment system specially designed for redesigned minivan. An available Wi-Fi internet connection on board will also keep children busy during long family trips.
Capable of comfortably accommodating up to eight passengers, the 2018 Honda Odyssey will facilitate access for its occupants with a system called "Magic Slide", which makes it easier to reach the third row of seats.
More safety than ever with the 2018 Honda Odyssey
Over the years, Honda has made safety a priority, and nothing is more important than the safety of its customers and their families. The 2018 Honda Odyssey is proof of that and will offer a wide range of both active and passive safety technologies designed to keep you and your family safe by either protecting you in the event of an accident, or avoiding the collision entirely.
Thanks to the Honda Sensing technology package, the 2018 Odyssey will warn the driver if he or she is drifting out of their lane, or if a vehicle suddenly brakes ahead. If the driver fails to react, the Odyssey can prevent itself from moving into the next lane as well as brake to avoid an accident.
Want to know more about the 2018 Honda Odyssey? Come and see us today at Bruce Honda. We will be happy to answer all of your questions!