The 2018 Honda Accord is the North American Car of the Year
January 31 2018,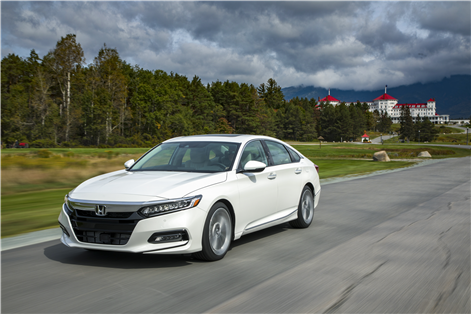 The 2018 Honda Accord has been completely redesigned and introduced to the market recently, and already it is attracting a lot of praise and prizes. Honda's mid-size sedan has recently been named North American Car of the Year, one of the most important and prestigious titles a car can receive in the automotive industry.
The 2018 Honda Accord stands out on many levels
With the 2018 Honda Accord, we are entitled to a mid-size sedan that offers a host of advanced technologies and that is also more spacious, more efficient, safer and more luxurious than the model it replaced.
Powered by a brand new 192-horsepower 1.5-liter turbo four-cylinder engine, the 2018 Honda Accord also offers the world's first 10-speed automatic transmission for a front-wheel drive vehicle. This turbo engine is not only one of the most powerful entry-level engines in its class, it is also one of the most efficient engines with an average fuel consumption rating of just 7.2 liters per 100 kilometers.
It's therefore no surprise that the new 2018 Honda Accord won the prestigious North American Car of the Year Award. The award is presented by a panel of 60 leading automotive journalists from the United States and Canada, and was presented a few weeks ago at the Detroit International Auto Show.
Last year, the Honda Ridgeline won the North American Utility Vehicle of the Year award, while in 2016 it was the new Honda Civic that won the North American Car of the Year title.
"Honda took a clean-sheet approach to reinventing America's most popular car, and we couldn't be prouder to receive this honor for Accord as the North American Car of the Year," said Henio Arcangeli, Jr., senior vice president of the Automobile Division and general manager of Honda Sales, American Honda Motor Co., Inc. "We're especially proud for the production associates in Ohio where Accord has been built to the highest quality standards for over 35 years."
To learn more about the 2018 Honda Accord, contact us today at Bruce Honda!