Quite a few changes for the 2018 Honda Accord
June 28 2017,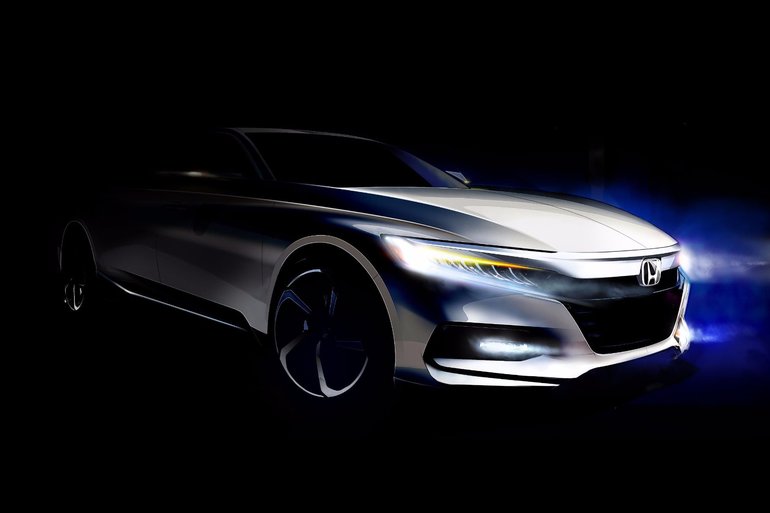 With the 2018 Honda Accord, Honda is introducing to the market the 10th generation of its popular midsize sedan, and one look at the new Accord's changes and improvements is enough to conclude that this new Accord will be the best one yet. The current 2017 Honda Accord is pretty great, but the new one will be even better.
Turbocharging takes the spotlight in the 2018 Honda Accord
The 2018 Honda Accord will replace its current 2.4-liter and V6 engines by two new turbocharged engines that promise improved performance and better efficiency. The entry-level 2018 Accord will be powered by a turbocharged 1.5 liter four-cylinder engine, which has already proved itself as an optional engine for the new Civic, and as the engine of choice for the redesigned CR-V that has recently launched.
For those looking for even more power, the 2018 Honda Accord will also be offered with a 2.0-liter engine, also equipped with a turbocharger. This engine will replace the current 3.5-liter V6 engine available as an option in the current Accord.
No official figures have yet been announced regarding the power and fuel consumption of these two engines, but Honda promises more exhilarating performance than ever along with exemplary fuel-efficiency.
Regardless of which engine is chosen with the new 2018 Accord, a six-speed manual transmission will be offered, an increasingly rare feature in the midsize sedan segment. Three-pedal driving enthusiasts will certainly be happy to hear the news.
A continuously variable automatic transmission will be offered as an option with the 1.5-liter engine, while the 2.0-liter engine will be paired with a segment-exclusive new 10-speed automatic transmission.
The Honda Accord also available in hybrid version for 2018
Honda also confirmed that the hybrid version will remain available and will also receive its share of improvements. Starting in with the 2018 model, the Hybrid Accord will feature Honda's new two-engine hybrid powertrain technology. With this hybrid variant, an automatic transmission will be offered as standard.
Stay tuned over the next few weeks as further details on the technical specifications of the new 2018 Accord should be provided. In the meantime, do not hesitate to come and see us at Bruce Honda if you have questions about the 2018 Accord or the current 2017 Accord which remains one of the best midsize sedans on the market right now.