Easy and seamless
Lacey made our experience buying our new Honda Fit easy and seamless. Wonderful customer service/sales.
Other customers satisfied
Great experience. Would buy a car again!
Thanks, and great service from Derek and Matt!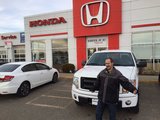 Great Place to Buy a New Vehicle
Great great experience. Very friendly service, cared for all needs met. Very great place to buy a new vehicle. Come here to buy your car!
See all testimonials