Bruce Honda Showdown on the Shore was a Huge Success
Huge Crowd and Beautiful Weather for Sunday's Race
August 06 2018,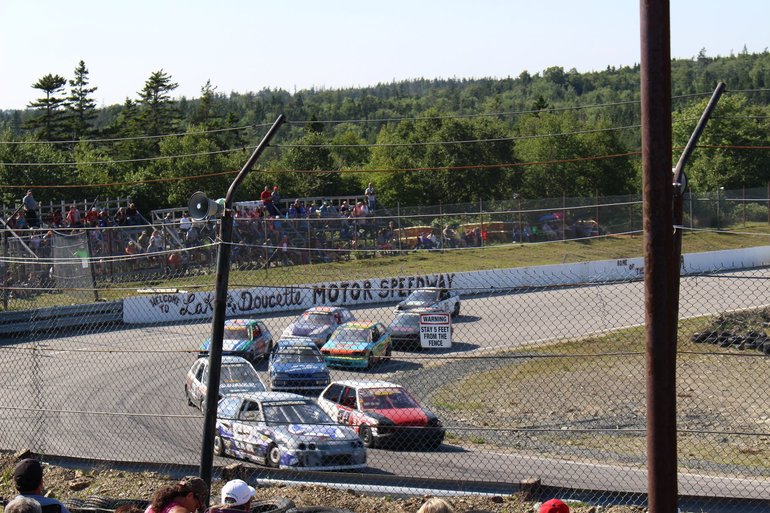 An exciting day of racing at Lake Doucette Motor Speedway with some of the best Honda drivers in the Maritimes.
Sunday, August 5, 2018
Lake Doucette Motor Speedway, Salmon River, NS
Despite the fog and showers on Sunday morning, it turned out to be a beautiful, sunny day for the East Coast Mini Stock Tour Bruce Honda Showdown on the Shore.
Racers from all over the Maritimes showed up for this all-day racing event featuring 4-cylinder, V8 and Sportsman classes. The main feature, a 75 lap showdown, featured 12 of the best Honda racers in the Maritimes including Drew MacEachern from Dartmouth, NS, Dave Matthews from Kennetcook, NS and Cody Byrne, all the way from Orwell Cove, PEI.
The turn-out was spectacular! The stands were filled along with chairs on the grass as far as the eye could see.
The drivers did not disappoint! It was an intense race on this unique, 1/2-mile egg shaped oval. Matthew Warren (#31) and Jesse Deveau (#51) remained neck-in-neck almost the entire race. It was a pretty smooth race with hardly any caution flags.
In the end Matthew Warren overtook Jesse Deveau and won 1st place. Jesse came in a close second with Andrew Warren in car #85 taking home the 3rd place trophy.
It was a great day of racing and a true testimony to the power and durability of Honda. These are not new cars by any means - some of these cars have been racing as long as 10 years!
For more on the East Coast Mini Stock Tour visit their website at http://eastcoastministocktour.com/.