2017 Honda CR-V versus Nissan Rogue: the former for interior space
October 31 2017,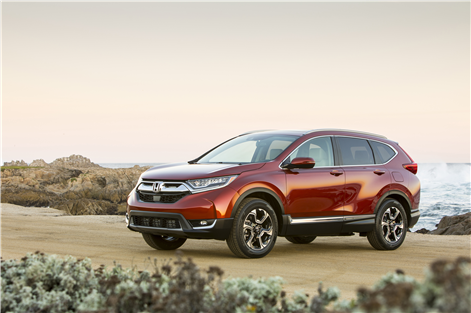 The compact SUV segment is not lacking in interesting options for consumers looking for a sport utility vehicle that offers space, efficiency, safety, and refinement. This is actually one of the most popular segments in the automotive industry in terms of sales so every manufacturer makes sure to offer the best possible product.
Two examples are the all-new 2017 Honda CR-V and the Nissan Rogue. While the first has been completely redesigned this year, the second has also been slightly improved recently. Buyers therefore have two very interesting SUVs to consider, but as we will see the CR-V is a little more modern and therefore has the advantage in terms of fuel economy and interior space.
A look at the space first
The 2017 Honda CR-V is one of the most spacious compact SUVs in its segment, but the Nissan Rogue is no slouch either. With the Honda CR-V, the owner gets 1,110 liters of cargo space in the trunk while the Rogue isn't too far behind.
On the other hand, if you lower the rear seat, the CR-V has 2,146 liters while the Rogue offers 1,982 liters. In terms of interior space, the CR-V offers 2,999 liters of passenger space while the Rogue offers 2,843 liters.
A more efficient engine for the 2017 Honda CR-V
As we mentioned earlier, the 2017 Honda CR-V is newer than the Rogue and benefits from a more modern engine. Indeed, the Honda CR-V is powered by a 1.5-liter turbo four-cylinder engine that develops 190 horsepower and 179 lb-ft of torque, 20 more horsepower than the 2.5-liter four-cylinder engine found in the Nissan Rogue.
Despite its higher power, the 2017 Honda CR-V is more fuel efficient than the Nissan Rogue. In fact, it has an average fuel consumption of 8.7 liters per 100 kilometers in the city, and 7.2 liters per 100 kilometers on the highway for a combined average fuel consumption rating of 8.0 liters per 100 kilometers.
The difference is considerable with the Nissan Rogue, which has an average fuel economy rating of 9.6 liters per 100 kilometers in city driving and 7.4 liters per 100 kilometers on the highway.
To choose the right compact SUV, you have to know your needs. In the case of the Honda CR-V, it will satisfy those who need space and power without sacrificing fuel consumption.
To learn more about the 2017 Honda CR-V, contact us today at Bruce Honda!