2016 Honda Pilot: All New!
May 29 2015,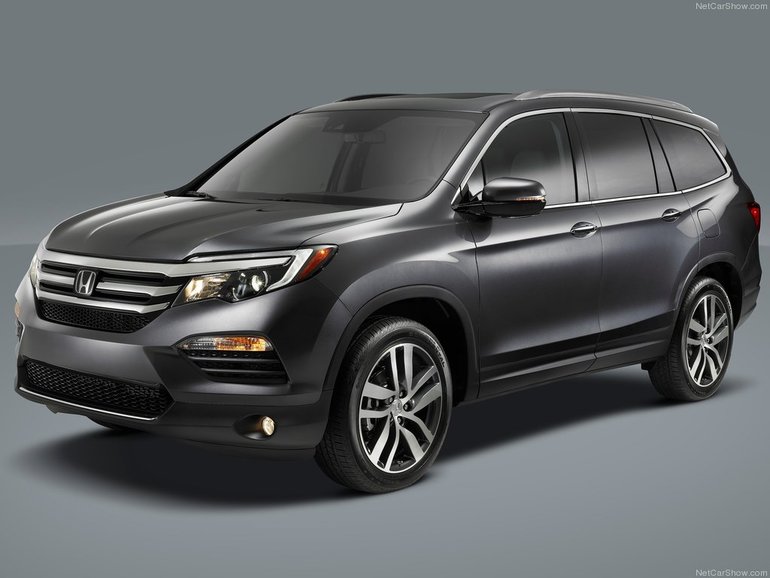 That's right, after six years the esteemed Honda Pilot has finally received a full makeover, and just in time!
As the CUV/SUV market booms, the newly redesigned and updated 2016 Honda Pilot is ready to take on the competition and slot itself into the top spot.
For starters, the brand new 2016 Honda Pilot sports a brand new exterior design. Gone are the boxy days, and instead we have a vehicle that's modern-looking and full of curves and lines that draw the observer in and keeps them looking. Borrowing style cues from its little brothers, the CR-V and HR-V, the Honda Pilot makes a bold statement on the road with a new three-bar chrome grille and 18" or 20" wheels with sporty styling cues. While the Honda Pilot may have seemed large before, its new design belies its current size making it seem much more compact than it actually is.
Speaking of interior size, the 2016 Honda Pilot has it in spades with 3,092 litres of space behind the front seat when all rows are stowed. With both the second and third rows up, that space is reduced to 524L, which is still mighty impressive.
Access to the third row is easy-peasy: with a click of a button, the second row will slide forward allowing you to enter the third row without trouble. And speaking of that third row, it's actually usable for adults and children as legroom is quite ample and all will be comfortable.
Up front, you'll be treated to available heated front seats tri-zone climate control system, as well as an 8" infotainment screen that also features an available Garmin navigation system (top trim only). There is also an available entertainment package that features a drop-down BluRay-player screen for rear passengers.
Under the brand new hood of the 2016 Honda Pilot, you'll find one engine choice: a 3.5L V6 mill that produces 280 horsepower and 263 lb-ft of torque, which is up 30 horsepower and 10 torques from the outgoing model with the same V6. Engineering tweaks, as well as a brand new available 9-speed automatic transmission (availableo only on the AWD modesl) help the 2016 Honda Pilot achieve its impressive new performance numbers. Of note, a 6-speed automatic is standard.
The brand new 2016 Honda Pilot is a great step forward for Honda in a segment that's bursting at the seams with great models and choices. However, Honda has a fabulous advantage in that their vehicles are always such a pleasure to drive and experience on the open road; and now the 2016 Honda Pilot doesn't just drive well but it looks great doing it and is uber comfortable to boot.
Make sure you head down to Bruce Honda to check out the brand new 2016 Honda Pilot today, and don't forget to book a test drive.