2016 Honda Accord: So Much Win
August 24 2015,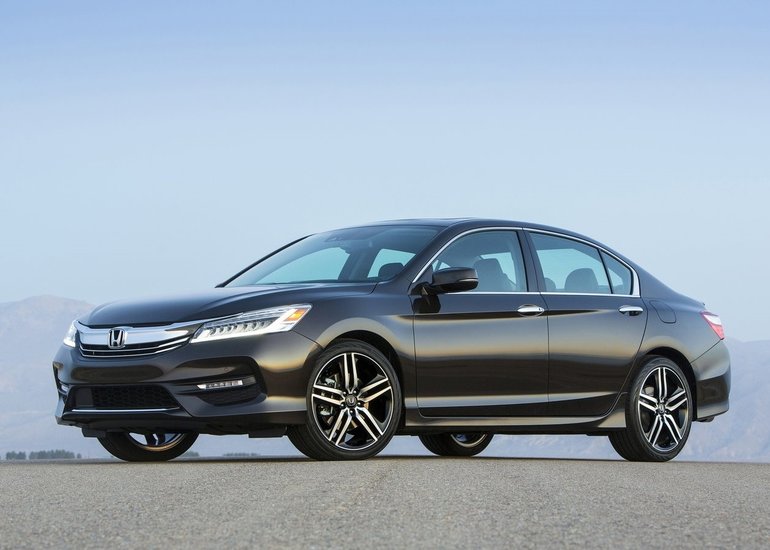 With a distinctive body style that's immediately recognizable, the Accord makes a real statement on the road.
The new 2016 Honda Accord was unveiled last month in San Francisco, and it is truly shaping up to be a remarkable evolution for Honda's popular midsize sedan. Offering a brand new look that gives the car a much more refined appearance, the new Accord also offers a host of new technologies.
For decades, the Honda Accord has been a staple on our roads, and there's a very good reason for that. The latest iteration of the already popular midsize sedan is already taking the market by storm and receiving accolades aplenty, such as a 2015 Kelley Blue Book Best Buy, 5-star safety rating, as well as being in the Car & Driver "10 Best" list. There's clearly lots to love about the new 2016 Honda Accord .
Driving in Style with the 2016 Honda Accord
For starters, The 2016 Honda Accord is a real looker. With a distinctive body style that's immediately recognizable, the Accord makes a real statement on the road. Available LED headlights along with 18" wheels bring the Accord squarely into the modern world and keep it there. Classy and sporty all at once, the Accord (in sedan or coupe guise) is a helluva good-looking sedan. There's not denying that.
And that attractiveness continues inside the Accord, too. With luxuriously appointed seats up front and in the rear, comfort is paramount no matter where you choose to sit. With available dual-zone climate control, all will be comfortable with the temperature as well. The 2016 Honda Accord also features the company's dual-screen set-up in the middle console for optimal control of entertainment and navigation, as well as an available 7-speaker premium audio system (with subwoofer) with satellite radio as well as USB and Bluetooth connectivity so you can play your music however you please.
The Features are for Everyone
Because Honda knows winters in Canada are nothing to scoff at, the front seats can be heated, but your backseat passengers need not be jealous. Rear-seat heating is also available. Bonus!
Of course, the selling point for any Honda is the drive. Two engines are available in the 2016 Honda Accord: a 2.4L i-VTEC 4-cylinder that produces 185 horsepower (189 in the Sport model) and 181 lb-ft of torque (182 lb-ft in the Sport); and a 3.5L i-VTEC V6 that pushes out 278 horsepower and 252 lb-ft of torque. There are also three transmission choices available, depending on model chosen and engine; a 6-speed manual, a 6-speed automatic or a CVT. The 2016 Accord also features Honda's Drive-by-Wire throttle system, and there are steering-wheel mounted paddle shifters available on the Sport model but only with the CVT selected. Power is sent to the front wheels at all times.
In all, the 2016 Honda Accord has so much to offer, and at an affordable price. An absolute pleasure to drive, with plenty of interior amenities and room for passengers and gear, the Accord is sure to impress even the most discerning buyer.
To find out more about the 2016 Honda Accord, head down to Bruce Honda today to speak to one of our experts, and make sure you book a test drive, as well.