2014 Honda Accord offers something for everyone
April 23 2014, Justin Barker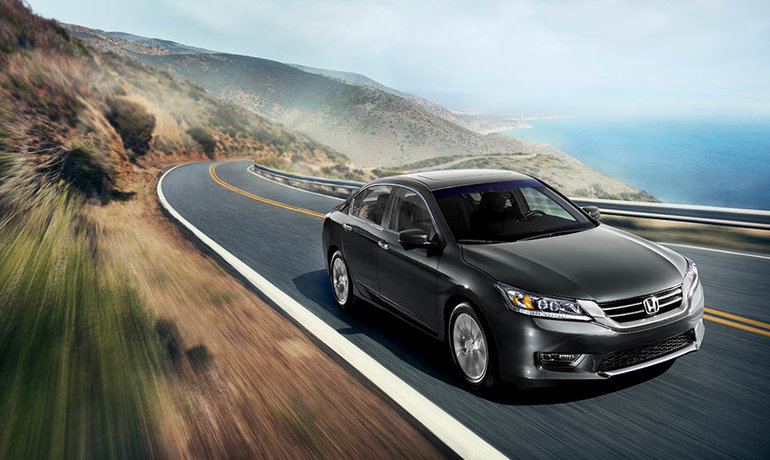 Sensible with a history of reliability, the much-loved Honda Accord has all the right things to offer its customers.
Sensible with a history of reliability, the much-loved Honda Accord has all the right things to offer its customers. The automaker has created more than just history and a good resale value for the midsize sedan. For the 2014 Honda Accord, buyers can also expect a full-featured family car, or coupe, but with a little something for everyone.
Having experienced a redesign just last year, consumers can still enjoy the essence of what the Honda Accord represents, but as a more stylish and modern version of the vehicle. The 2014 Accord remains a comfortable and practical car, with powertrains and fuel efficiency that everyone can appreciate.
For the 2014 model year, Honda has introduced two hybrids to the lineup: a traditional version and an electric plug-in variant. The new and more efficient hybrid is rated at less than 4.0 litres per 100 kilometres in terms of consumption.
As for the 2014 Honda Accord Plug-in (PHEV), it is said to travel approximately 21 kilometres on electricity, before relying on the gasoline engine. When the two are combined, the total range is about 924 kilometres.
Consumers interested in the 2014 Accord PHEV can expect to find a new Earth Dreams 2.0-litre 4-cylinder engine under the hood, that generates 137-horsepower. Paired with this gas-powered engine is a 124-kilowatt electric motor, which includes a 6.7 kWh lithium-ion battery. Together, the systems produce an output of 196 horsepower. All that power can be recharged in fewer than three hours when plugged into a standard 120-volt outlet.
The regular 2014 Honda Accord Hybrid comes equipped with the same engine, mated to an Electronic-Continuously Variable Transmission (E-CVT) for better fuel economy. One can select between several driving modes, such as EV, Hybrid and Engine.
As previously mentioned, there is an option for everyone. Those wishing to go with the fully gas-powered vehicle can select the standard 2.4-litre inline-4, or the optional 3.5-litre V6 engine. The latter produces 278-horsepower and 252 lb-ft of torque. With the sedan, consumers can enjoy a 6-speed automatic transmission, while coupe lovers will be shifting gears with a 6-speed manual.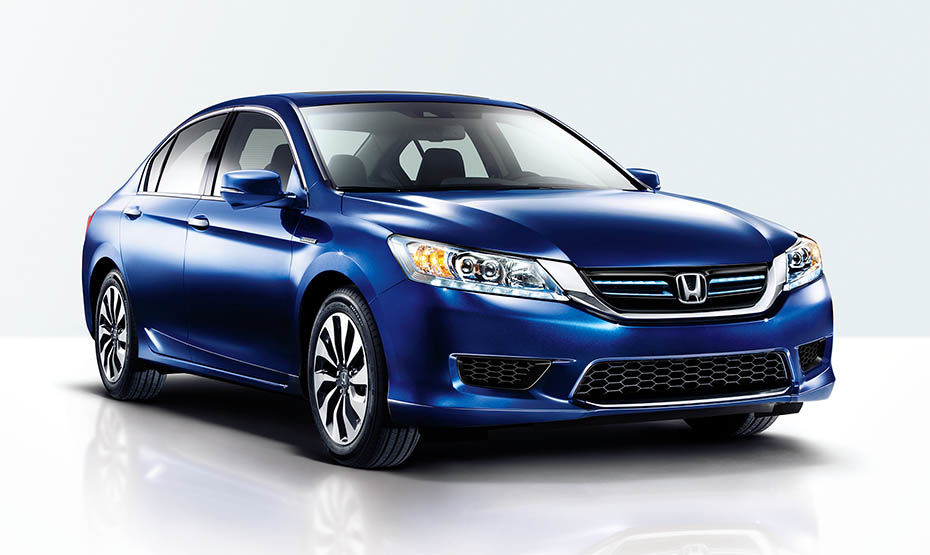 Buyers also need not focus much on safety, as the vehicle seems to be doing quite well in this area. The 2014 Honda Accord has earned the TOP SAFETY PICK+ rating from the Insurance Institute for Highway Safety. The 2014 Accord achieved the top score for the frontal, side, rear and small overlap impact tests. In addition, the Accord walks away with a 5-star overall score from the National Highway Traffic Safety Administration.
The 2014 Honda Accord comes available with several safety features, such as Electronic Brake Distribution, Brake Assist, and stability control, among others. Certain interesting technologies to note are the Forward Collision Warning and the LaneWatch Blind Spot Display, to name a few.
Otherwise, the base trim level sedan, which sells for just under $24,000 at your Bruce Honda dealership, comes standard with an AM/FM/CD audio system. It also includes a multi-information display, a USB device connector and an MP3/ auxiliary input jack, and more.
Experience the all-new 2014 Honda Accord sedan or coupe by booking a road test with your Bruce Honda dealer. Try the new 2014 Accord hybrid and hybrid plug-in for an even more fuel-efficient vehicle!